Welcome to Denver Bridge
5/14/2022
New partnership feature at the Rocky Mountain Regional
Looking for a partner? We are trying out a new method for players to find partners. It's an ONLINE PARTNERSHIP DESK. You go to the website and:
Find the event you want to play
Check the list of people who have already signed up for that event
If you don't find a likely candidate, list yourself and your contact info for that event
Here's the link: ONLINE PARTNERSHIP DESK
This works for both pair and team events.
The Partnership board at the site and the Partnership form on this website (click here) are still in use, so don't overlook those.
Speaker lineup at the Rocky Mountain Regional
There's an outstanding lineup of speakers for the upcoming regional. All presentations are in the ballroom, from 2:15 to 2:45. Don't miss them!
Wednesday

Bridge Ethics is not just about Cheating


Robb Gordon

Until recently, Robb was the ACBL National Recorder. He is now a full-time bridge player. He is a Grand Life Master with over 12,000 MPs, over 100 Regional wins, a North American Championship, and a WBF Bronze Medal. He lives in Prescott, AZ, with Rosie, the Pooch Princess of Prescott.
Thursday

How to open the big hands and how to respond


Rolf Houtkooper

Rolf played bridge in Europe for more than 30 years before moving to the USA in 2012. He is now an ACBL-certified teacher and Club Director. He teaches and directs on land and sea. His most recent adventures have been with Cunard, Oceania, and Norwegian cruise lines. Rolf has served on Sectional, Regional, and NABC committees. He is currently a member of the D17 Goodwill Committee and the Aileen Osofsky Goodwill Committee.
Friday

National Update Q&A


Cindy Shoemaker

Cindy Shoemaker is the District 17 Representative to the ACBL Board of Directors. She serves on national core committees that include Strategic Planning and Governance, and she chairs the ACBL Communications Task Force. As a District 17 Board member, Cindy is the Editor of the D17 Bridge Buzz Newsletter and oversees the D17 website. She also is a Trustee to the ACBL Charity Foundation.
Cindy is a seasoned and effective communicator and marketing professional with extensive project management experience, and she has a proven track record of using these skills to benefit players, clubs, units, and districts.
Saturday

Deciphering Doubles: How to tell whether partner's double is for takeout or penalty


Curt Soloff

Curt has more than 25 years of competitive duplicate bridge experience. A Sapphire Life Master, he provides professional bridge teaching services in Colorado and online to students around the globe. He was a columnist for the District 17 Scorecard and was the first recipient of the Denver Unit's Jan Janitschke Award in 2020 for outstanding teaching and mentoring. You can now find Curt (BBO: curtsolo) and Dave (BBO: daveharty) on Bridge Base Online every Saturday evening at 6:30pm MDT, where they offer a free lesson in the BILies Retreat. You can also find Curt on the Internet at www.bridgewithcurt.com.


Sunday

Finding the right strain with Jacoby Transfers


Allan DeSerpa

Allan has been a frequent contributor to The Bridge World, and has published six books on advanced topics in bidding theory: Sixpack (2014), Sixpack Repack (2017), The Two-Club Marionette (2019), Pattern Relays (2019), Minor-Suit Inventions (2020), and Pancakes and Waffles (2021). Allan's "real life" has been spent as a professor of economics, mainly with Arizona State University. Until recently, bridge was just one of many hobbies, competing with golf, racquet sports, and piano.
Don't forget
As per ACBL guidelines, proof of COVID-19 vaccination is required. Come early to get checked in and pick up your wristband.
The regional is going cashless. Bring a credit card and be prepared to work it out with your partner or teammates.
5/3/2022
Proof of vaccination at the Rocky Mountain Regional
To play at the upcoming regional, you will need to have proof of vaccination for COVID-19, and get a wristband. A wristband is required to enter the playing sites.
If you have played at a recent Unit 361 sectional, or at one of these clubs – Denver Metro, Arvada, or Castle Rock – we should already have you on our list, so it will be a simple matter of checking your name and getting a wristband.
If you haven't played in one of those venues, you can email a scan of your vaccination card to SafetyOfficer@DenverBridge.org, and we'll add you to the list.
If neither of these works, be sure to bring proof of vaccination with you and show it at the check-in tables.
On subsequent days, if you keep your wristband, you won't need to check in again. If you discard your wristband, you'll need to repeat the "proof of vaccination" process and get a new wristband.
Suggestion: Arrive early to prevent a bottleneck at the check-in tables.
4/10/2022
Pix from the I/N tournament
The I/N tournament was held Saturday and Sunday, April 9 and 10. You can see the results here, and here are a couple of pictures.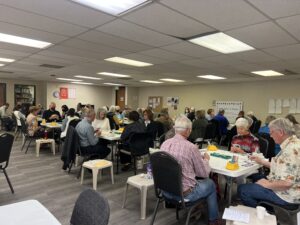 Congratulations to the winners, and thanks to everyone who came out to play.
4/6/2022
A couple of notes about the upcoming Denver Regional
The Denver Regional will follow the ACBL guidelines for COVID-19 that are in effect at the time (May 24–30, 2022). The ACBL guidelines are based on the CDC guidelines. We do not know at this time what those guidelines will be. We will post information here as soon as we have it. In the meantime, you can track the ACBL's policy here.
The Denver Regional is going cashless. Credit cards and checks for the exact amount will be accepted. Credit card payments must cover the pair or team.
3/22/2022
Change to Fridays at the open sectional
We've received feedback that the separate games on Fridays are too small. So … starting in July, we are dropping the bracketed team game on Friday to support the pairs games. Friday games will be two single-session pair games. Open and IN will play separately. This is a temporary measure until attendance increases enough to support both pair and team games.
Are you a club owner? If so, do you want to run a Sam's Game?
Club owners in Unit 361 will soon be getting an email that describes the Sam's Game and gives you the information you need to run one at your club.
3/7/2022
Regional hotel reservation system is FIXED !!!
If you've been trying to make a hotel reservation for the Rocky Mountain Regional, the Marriott reservation system is working again. So go ahead and click on the link and make your reservation, and we'll see you there!
Ace of Clubs awards for 2021
Several of the recipients of the annual ACBL Ace of Clubs awards were present at last weekend's tournament to receive their certificates from Carol Gumpert, unit secretary. (Note: Other people were there but I don't have their pictures yet.)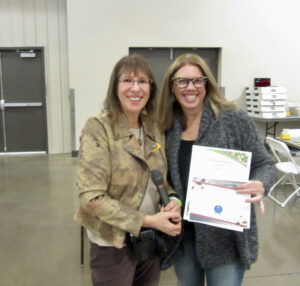 Molly Walsh
Winner of the 100–200 masterpoints race
Jennifer O'Neill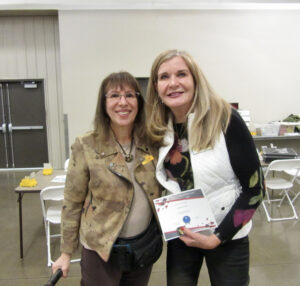 Winner of the 1500–2500 masterpoints race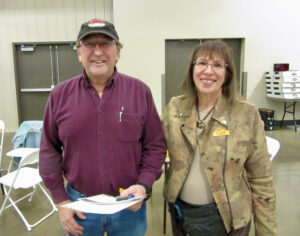 Bob Lupton
Winner of the 3500–5000 masterpoints race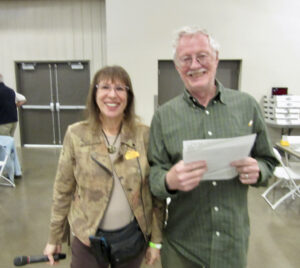 Jerry Ranney
Winner of the 5000–7500 masterpoints race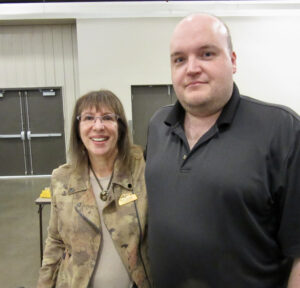 Spencer Jones
Winner of the 7500–10,000 masterpoints race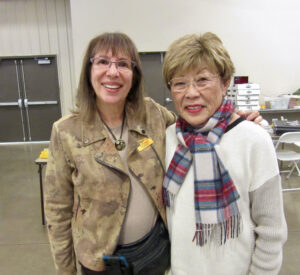 Flo Newlin
Winner of the 10,000+ masterpoints race
For a complete list of Unit 361 Ace of Clubs winners, click here.
For a complete list of Unit 361 Mini-McKenney winners, click here.
3/1/2022
D17 Bridge Buzz
The March issue of the District 17 Bridge Buzz has been published. This goes out to everybody in D17 who has a valid email with ACBL. You can also read it on the D17 website – click here.
2/15/2022
Latest Table Talk
A new edition of Table Talk has just been published and sent out. Click here to read it. And click here for a list of recent Table Talks, including this one.
1/27/2022
Pro/Am registration now open
Registration for the 2022 Pro/Am Pairs, the traditional opening event of the Denver Rocky Mountain Regional, is now open. Click here for more information, and to register.
Good financial news
Our astute and observant treasurer, Ed Yosses, found an error in the ACBL's calculations for the November 2021 sectional and the January 2022 sectional. As a result, the ACBL will be reimbursing the unit ~$4500. The January financial report will come out after the funds are received.
1/18/2022
Board member roles
At the January meeting, the board members discussed the various roles and responsibilities and divvied them up. You can see who's doing what here.
How far is it to the Arapahoe County Fairgrounds really?
Yes, it's a ways out there, but not that much farther than Jeffco. It probably feels farther partly because you're going through countryside for the last couple miles, but it's only fair for the players on the east side of town to get their turn. Also, it's very convenient for people coming from the south (Colorado Springs) and not that difficult for people coming from the north or from Boulder. Space is comfortable, lighting is good, and speaking as a female person, the restroom was awesome.
And, on the food front, Southlands Mall, eight minutes away, has a lot of food options (nineteen at current count).
12/17/2021
GNT Conditions of Contest for D17
The D17 GNT (Grand National Teams) finals will be held at the Denver Regional on the Saturday and Sunday, May 28 and 29, 2022. Winners go on to the national finals, to be held at the Summer NABC in Providence, RI, July 13–17 2022. Click here for the D17 conditions of contest.
More GNT qualifiers will be held at local clubs in the upcoming months. Keep an eye on your club's schedule, and we will also post that information here if we have the details.
12/7/2021
Congratulations to Denver's newest ACBL-certified teachers
At the recent NABC in Austin, Shelbie Bastiaans and Sheryl Siegel went through the training, passed the tests, and became Denver's newest ACBL-certified teachers. They join three other Denver teachers in achieving this credential.
Sheryl and Shelbie began teaching at the beginning of the pandemic, at the request of Elly Larson, owner of Denver Metro Bridge Studio. To date, they have taught more than 120 students, ages 7 to 90. Their success encouraged them to obtain the ACBL Best Practice Teacher Certification. This certification is available only at NABCs. The entire process includes a Basic Bridge Knowledge Test, a three-day workshop, and several demonstration lessons given to fellow workshop participants. The final lesson is graded by the workshop facilitators and Patty Tucker, whom you may recognize as a leading ACBL teacher and developer of several bridge courses (Learn Bridge in a Day, and Bridge in a Day).
Shelbie and Sheryl have also developed their own Quick Bridge program, they are BIAD-certified teachers, and they are participating in the BridgeWhiz program.
Congratulations! (and belated congratulations to our other ACBL-certified teachers)
11/21/2021
Mentor program
Have you checked into the Unit 361 mentor program? If you are looking for a mentor, the masterpoint limit for mentees has been increased to 299. If you are a more advanced player, consider becoming a mentor. Click here for more information about finding a mentor or becoming a mentor.
Older (but still relevant) news
Directories
New directories, for the years 2021–2022, have been printed. They will be available at tournaments and at local clubs. Be sure to pick one up.
Email 'phishing'
You may have received an email from ACBL reporting a 'phishing' scam that was sent to some members' emails. Additionally, you may have received an email from one of the Unit 361 board members asking you to purchase something on the board member's behalf.
Please know that Unit 361 Board Members will NEVER use their position to solicit money or charitable contributions, or send an email asking you to spend money on their behalf.
When receiving questionable emails, please check the sender's address as a clue to its real source. Please contact us if you have questions about any solicitation message you receive from a Board Member.