Welcome to Denver Bridge
May 31, 2023
Regional table count UPDATED
The final table count is not in, but today's number is 1269 tables for the entire week. I'm not sure if that number includes the GNTs or not. Table count for last year's regional was 1026.5. Bridge is coming back!
Regional winner photos
There will be photos of winners here in a couple of days, so come back later and have a look.
COVID-19 at the regional UPDATED
We have heard of four people testing positive for COVID-19 after the regional. Two of these people were involved in staffing the Hospitality and Partnership desks.
If anyone else has tested positive since the regional, please let us know. And take care of yourself.
Next board meeting
Saturday, June 17, 9:00 am, at the Eloise May Library, Parker and Florida. All unit members are welcome to attend. If you would like to add an item to the agenda, please let the president know.
NOTE: Meetings are sometimes moved or rescheduled on very short notice, so if you plan to attend, verify the time and place.
April 17, 2023
Spring I/N tournament UPDATED WITH PHOTOS
The spring Intermediate/Novice tournament was held this past weekend, April 15 and 16. Turnout was outstanding: 84 tables! You can see the results here.
A couple of winners pictures:
Pam Barnsbach and Beth Vinton
1st overall Saturday morning
Marshall Brady and Bari Holman
1st Flight B Saturday afternoon
Thanks to Elly Larson, who rents her space to the unit for this tournament and provides support in many other ways.
March 20, 2023
Proof of vaccination no longer required at Unit 361 events
Big news! Proof of COVID vaccination is no longer required at any of the Unit 361 sectionals or regionals. No showing the vaccine card, no wristband, no nothing.
This change is in accordance with the updated ACBL policy, which allows units to make their own decisions. Please note that if the ACBL policy changes, Unit 361 will comply with the new policy. Also please note that other units may choose to continue requiring proof of vaccination.
We cannot change the flyers that are already in circulation, so please ignore the "Proof of vaccination required" line that you will see on them.
March 7, 2023
Sectional turnout
If you came out to play in the sectional last weekend, thank you! We're happy to report that we were up 63.5 tables compared to March 2022. We also heard positive feedback about the playing site. We know that parking is somewhat difficult, and we will continue to work on that.
January 28, 2023
Parking at the March sectional
Here's the scoop on parking at the March sectional. Remember that the March sectional will be at the Iliff School of Theology, 2323 E. Iliff Avenue. The main entrance is on the south side of the building, from Iliff Avenue.
You can look for street parking – no guarantees.
There are several public parking lots on the campus, as well as several restricted parking lots. DO NOT PARK in a restricted lot – you'll be ticketed or towed! Here's a map (sorry about the lo-res). As VISITORS, we can park in the GREEN lots. The closest green lots are B, 304, and 320.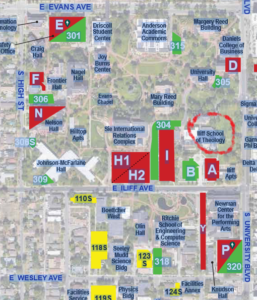 The cost for parking is $2/hour or $10/day. Unit 361 will reimburse $5 for each day you pay for parking, as long as you can show proof of purchase.
There are two ways to pay:
Parking kiosk. There is a parking kiosk in each visitor lot. You will need a credit card and your car's license plate number. Once you have input all the information, your parking will be approved. TAKE A PICTURE of the approval screen on your phone to show us at the tournament.
Download the ParkMobile app to your phone and use it to provide your credit card info, license plate number, and so on. Then show us the app screen to be reimbursed.
Reservations in the parking lot? No. First come first served.
In and out? Yes, AS LONG AS you return to the same lot. If you plan to leave for lunch, you might want to pay for the two sessions separately. Note that there are several lunch places in the area, and some are within walking distance.
Handicap parking? Yes, there are some spaces.
Tips:
Come early. We wouldn't be surprised if there's some confusion around the parking kiosks while everybody gets used to them. Also, the lots that are closer in will fill up first.
Have your license plate number and credit card ready before you get to the kiosk.
CARPOOL! Save some money, save the unit some money, shorten the lines.
January 2, 2023
Sectional schedule clarification
On Saturday, pairs who want to play one session or two single sessions can do so. They will be folded into the regular two-session pair event.
What is this Region business anyway?
If you've been following the ACBL at the national administration level, you have noticed a new structure: the region. Regions were created to address the size of the national board. Up until just this last year, there were twenty-five national board members. This was thought to be an unwieldy number for decision-making, and also fairly expensive. Accordingly, several of the districts were grouped into regions, and the regions now elect the national board members. By 2024, the national board will be reduced to thirteen members.
As it happens, District 17 is a large region, geographically speaking, and for the time being, Region 10 includes all of District 17 and no other districts or units. Cindy Shoemaker, who was the D17 representative to the national board, has become the Region 10 representative.
However, districts still exist, with all their previous structures and responsibilities. Districts are legal entities, have bank accounts, and so on. You can visit the D17 website, talk to your local representative to the D17 board – D17 hasn't gone anywhere.
Our district representative, Jennifer O'Neill, has provided a more detailed explanation of this change, and you can read it here.
Older (but still relevant) news
Pre-purchase, pre-registration
As of January 2023, you can pre-purchase entries online at the ACBL website for all Unit 361 open sectionals and regionals.
To get started, go to https://tournaments.acbl.org/ and click on the banner at the top of the screen (it says CLICK HERE TO SEE AVAILABLE TOURNAMENTS).
For details and a step-by-step procedure, click here.
Sam's Game
The Sam Stoxen Memorial Mentor/Mentee Team Game can be run at any club in Unit 361, with support available from the unit. Email the unit president for more information.
Email 'phishing'
You may have received an email from ACBL reporting a 'phishing' scam that was sent to some members' emails. Additionally, you may have received an email from one of the Unit 361 board members asking you to purchase something on the board member's behalf.
Please know that Unit 361 Board Members will NEVER use their position to solicit money or charitable contributions, or send an email asking you to spend money on their behalf.
When receiving questionable emails, please check the sender's address as a clue to its real source. Please contact us if you have questions about any solicitation message you receive from a Board Member.