Welcome to Denver Bridge
January 16, 2023
COVID at the sectional
A person who played at the Denver sectional on Friday and Saturday, January 13 and 14, has tested positive for COVID. His partners played on Sunday, January 15.
If you feel any suspicious symptoms, please test and take care of yourself. If your test is positive, please notify the unit president.
New location for spring sectional
The spring sectional, scheduled for March 3–5, 2023, will be held at the Iliff School of Theology, 2323 E. Iliff Avenue, in Denver. This is just a block or so from the Evans and University intersection, and less than a mile off I-25. Games will be on the second floor (there is an elevator). There is parking nearby, and the unit is planning to help with parking fees in some way.
Click here for a map and a flyer, and see you there!
January 5, 2023
Pre-registration !!!
As of this coming tournament (Denver Winter Sectional, January 13–15, 2023) and all Unit 361 open sectionals and regionals thereafter, you can pre-purchase entries online at the ACBL website.
Overview:
Go to https://tournaments.acbl.org/ and click on the banner at the top of the screen (it says CLICK HERE TO SEE AVAILABLE TOURNAMENTS).
Find the tournament in the list and click on BUY ENTRIES.
Find the event you plan to play, click SELECT, add your partner or partners, then click ADD ENTRY.
Repeat as required to pre-register for all events you plan to play.
Work your way through the rest of the process.
For more details and a step-by-step procedure, click here.
January 2, 2023
Happy New Year!
And we hope to see you at the January tournament, and all the rest of the tournaments through the year.
Nominations are open for the 2022 Jan Janitschke Award
The Jan Janitschke Award recognizes a member of Unit 361 for contributions to the education and/or mentoring of Unit 361 players. Any member of Unit 361 can nominate a candidate. Click here for more information and for the nomination form.
The last day for submitting a nomination is Sunday, February 19, 2023, and the award will be presented at the Pro/Am game at the Denver regional.
Sectional schedule clarification
On Saturday, pairs who want to play one or single sessions can do so. They will be folded into the regular two-session pair event.
What is this Region business anyway?
If you've been following the ACBL at the national administration level, you have noticed a new structure: the region. Regions were created to address the size of the national board. Up until just this last year, there were twenty-five national board members. This was thought to be an unwieldy number for decision-making, and also fairly expensive. Accordingly, several of the districts were grouped into regions, and the regions now elect the national board members. By 2024, the national board will be reduced to thirteen members.
As it happens, District 17 is a large region, geographically speaking, and for the time being, Region 10 includes all of District 17 and no other districts or units. Cindy Shoemaker, who was the D17 representative to the national board, has become the Region 10 representative.
However, districts still exist, with all their previous structures and responsibilities. Districts are legal entities, have bank accounts, and so on. You can visit the D17 website, talk to your local representative to the D17 board – D17 hasn't gone anywhere.
Our district representative, Jennifer O'Neill, has provided a more detailed explanation of this change, and you can read it here.
December 20, 2022
Change in mentor program masterpoint limits
If you have fewer than 500 masterpoints, you are eligible for the Unit 361 mentor program. Play up to four club games with a mentor, and the unit will pay the mentor's table fees. Or, if you've thought about becoming a mentor, the masterpoint requirement has been changed to 1000 masterpoints.
Click here for more information on the mentor program.
Next board meeting
The next meeting of the Unit 361 board will be held at 9:00 am on Saturday, January 28, at the Eloise May library (Florida and Parker). Board meetings are open to all unit members, and typically last until 11:30. Feel free to attend, and if you have a topic you'd like to discuss, contact the president to have it added to the agenda.
November 19, 2022
Update to Front Range Challenge
The winners of the 2022 Front Range Challenge – ta da! – Boulder! Congratulations to all the Boulder players.
October 20, 2022
Front Range Challenge
The nth (not sure exactly how many) Front Range Challenge took place on Sunday, October 16. New format: Teams from Boulder, Colorado Springs, and Fort Collins challenged Denver and each other. You can see the results here.
And you can see the full house here: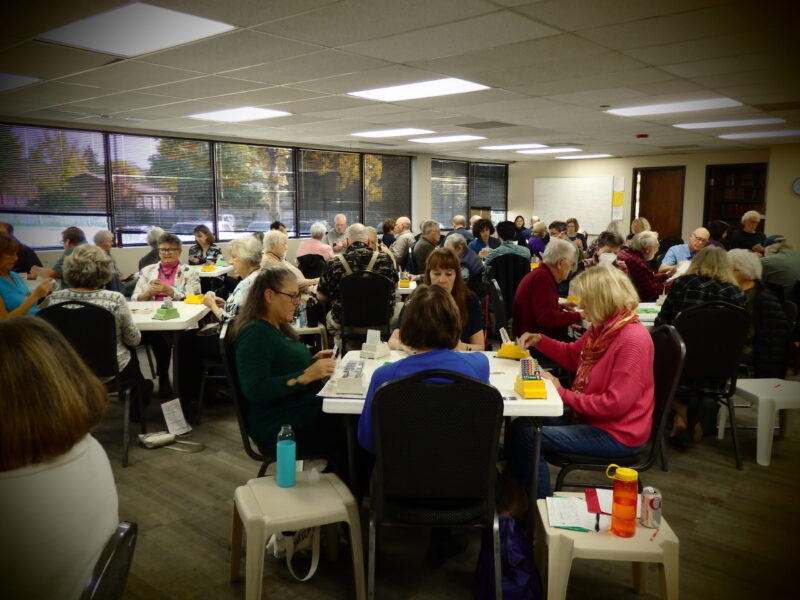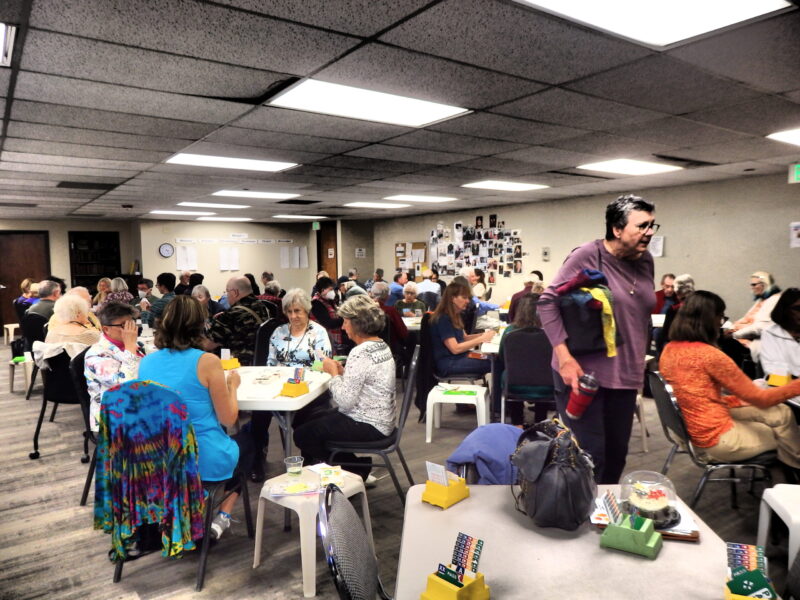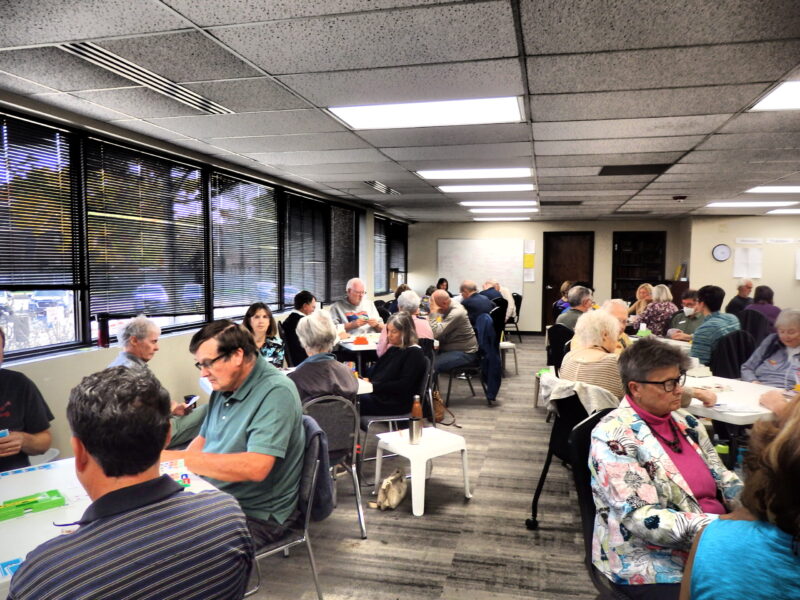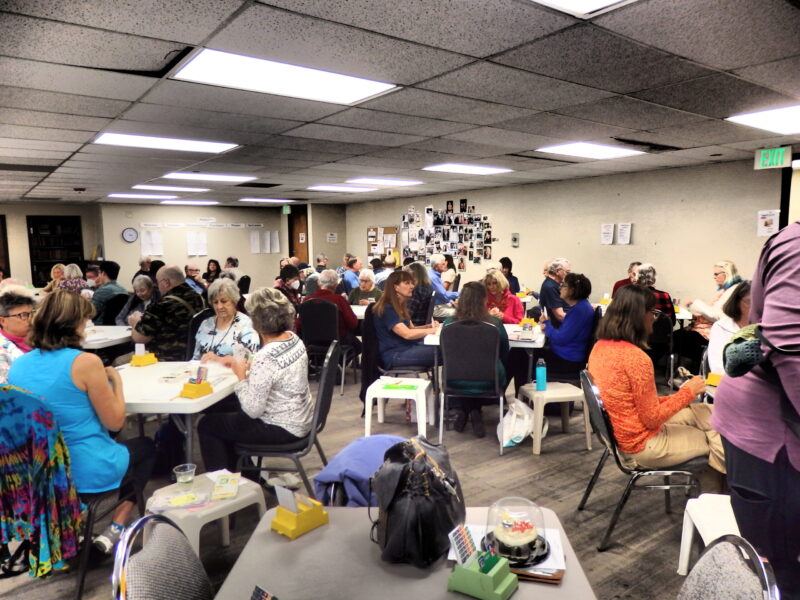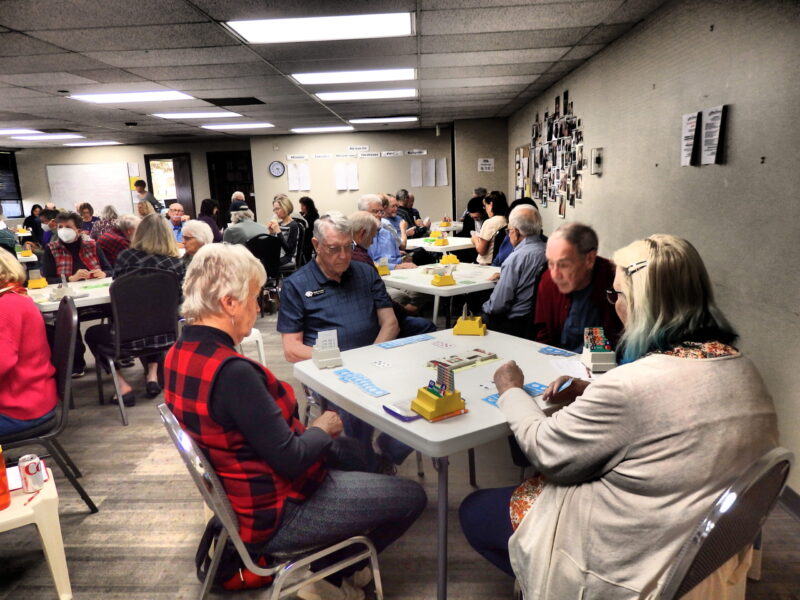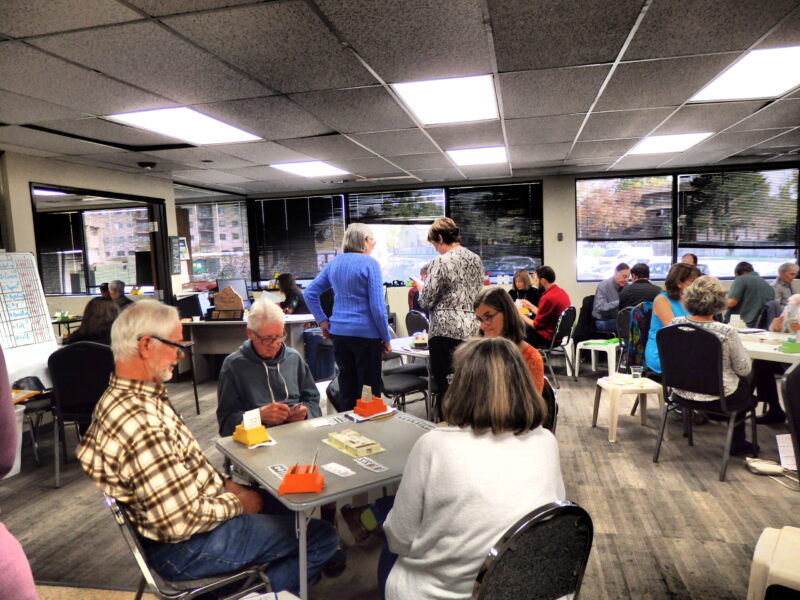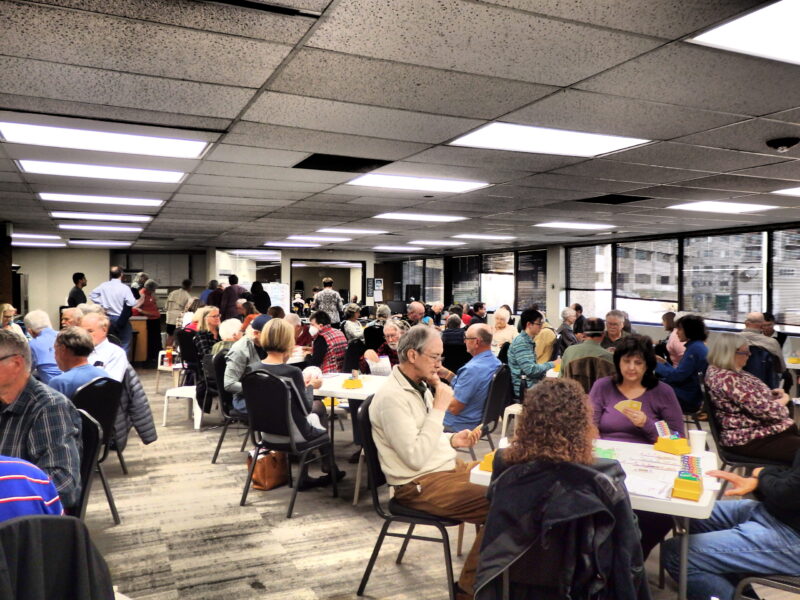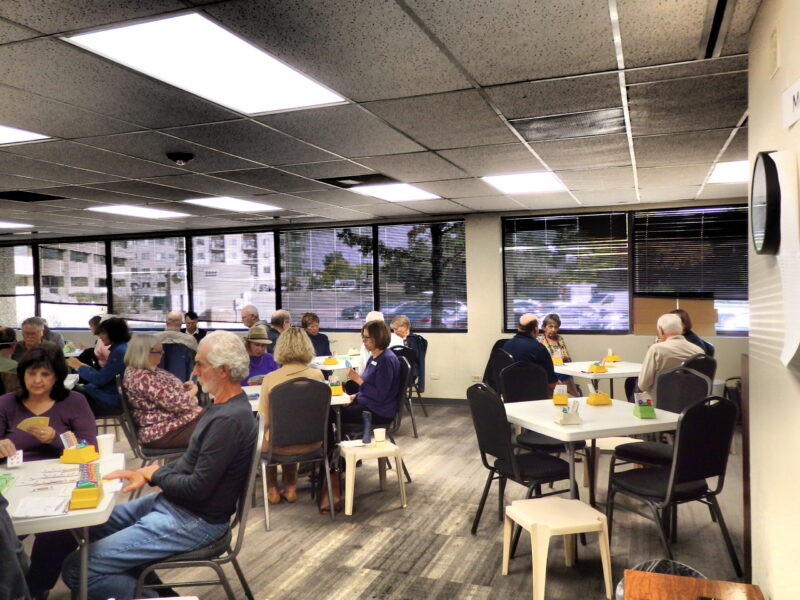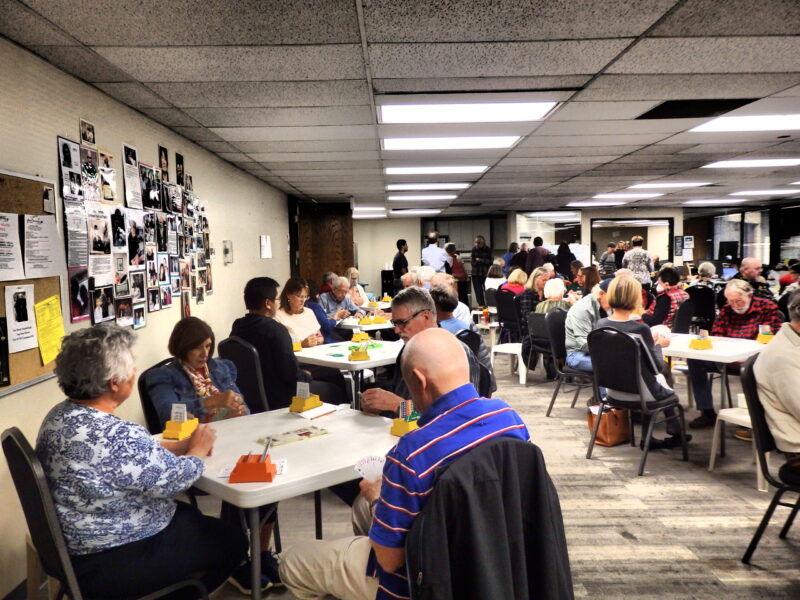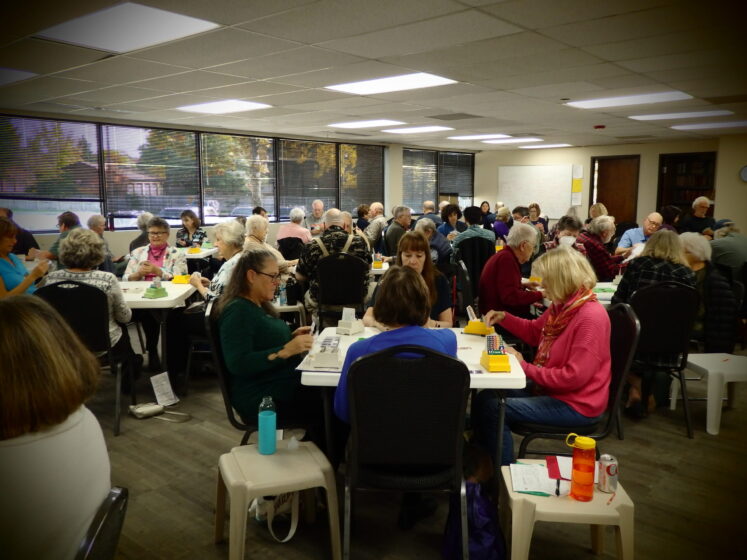 I/N tournaments now open to 499ers
The upper masterpoint limit for the Unit 361 I/N (Intermediate/Novice) tournament scheduled for April 2023 has been raised to 499. The tournament flyer has been posted, so check it out.
October 15, 2022
I/N tournament news
The Fall 2022 I/N tournament was held on October 8 and 9. The board tried out a new format: four single-session events. Turnout was excellent: 32.5 total tables on Saturday and 17 total tables on Sunday.
Congratulations to Kay Brock and Marshall Brady, the the overall point winners.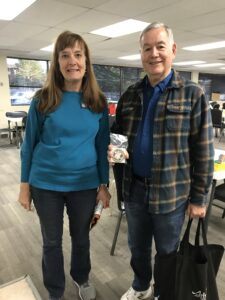 Here are a few snapshots of the Saturday games: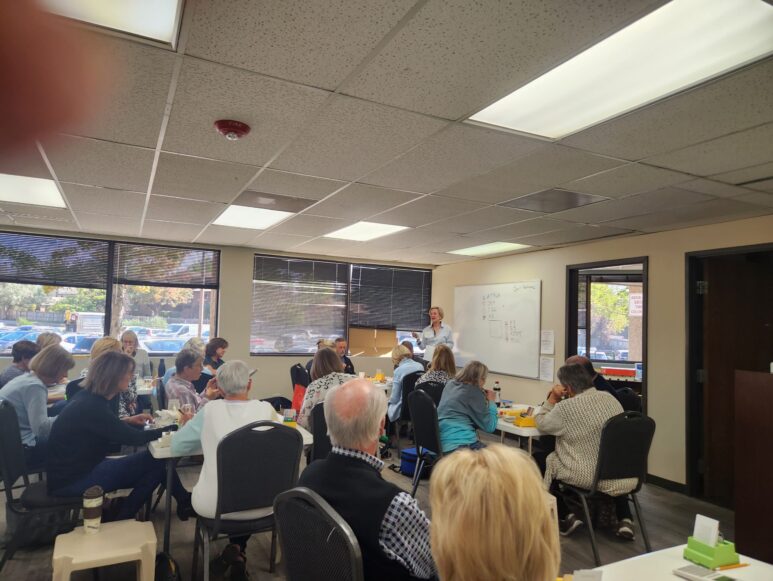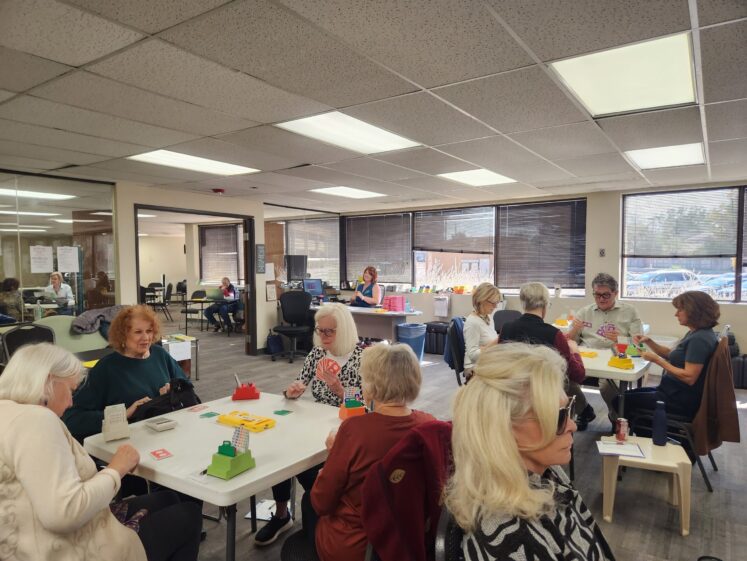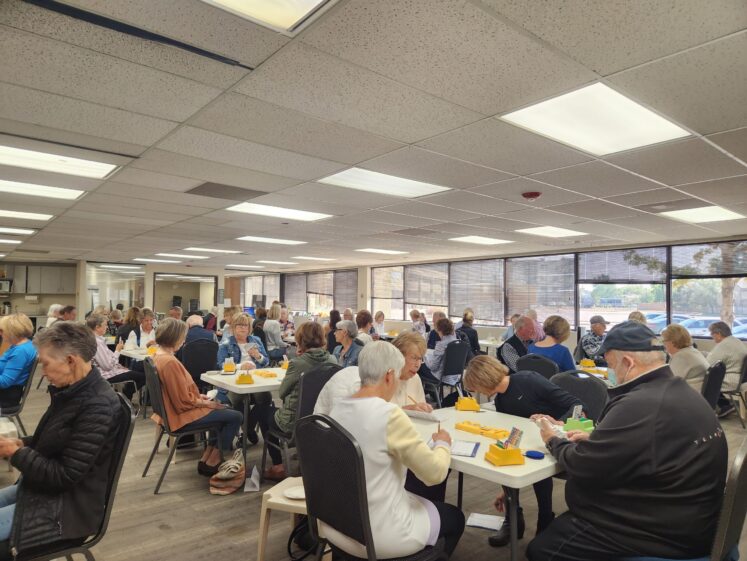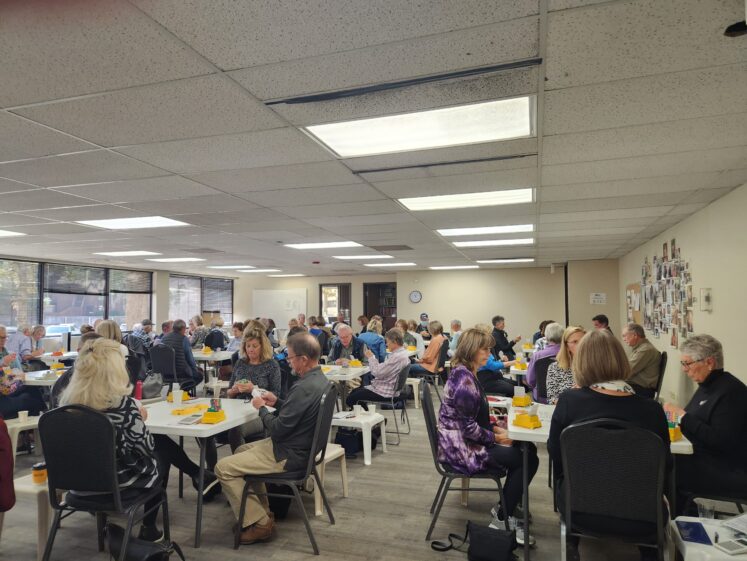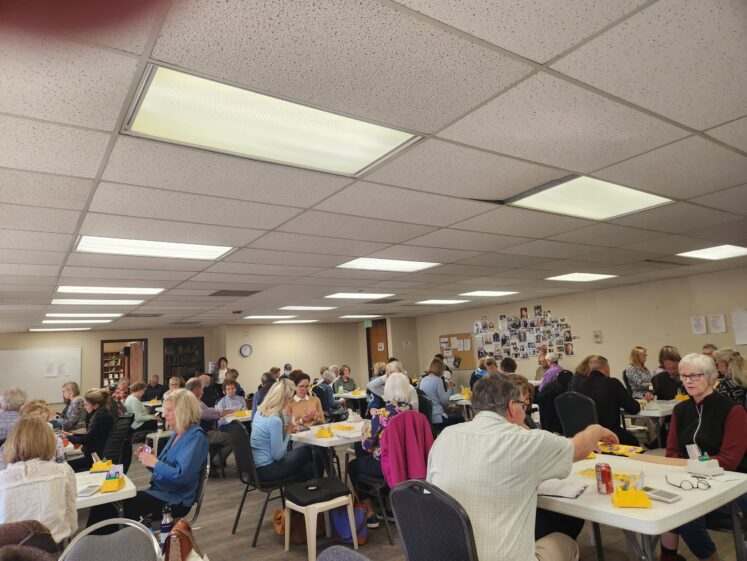 September 20, 2022
Date changes for 2023 tournaments
Due to schedule conflicts, the dates for the 2023 spring and summer sectional tournaments have changed. They are now:
Spring sectional tournament: March 3–5, 2023
Summer sectional tournament: July 7–9, 2023
Check with your partners and teammates and update your schedule.
Older (but still relevant) news
Sam's Game
The Sam Stoxen Memorial Mentor/Mentee Team Game can be run at any club in Unit 361, with support available from the unit. Email the unit president for more information.
Email 'phishing'
You may have received an email from ACBL reporting a 'phishing' scam that was sent to some members' emails. Additionally, you may have received an email from one of the Unit 361 board members asking you to purchase something on the board member's behalf.
Please know that Unit 361 Board Members will NEVER use their position to solicit money or charitable contributions, or send an email asking you to spend money on their behalf.
When receiving questionable emails, please check the sender's address as a clue to its real source. Please contact us if you have questions about any solicitation message you receive from a Board Member.